A floppy person with biomechanical dysfunction and chronic pain as well as visceral disorders
by Martin Krause
This is an interesting case in so far that the client had seen several practitioners, had read several books on chronic pain, pelvic and thoracic dysfunction as well as attended courses on muscle energy techniques. I was confident that I could remedy the thoracic and pelvic dysfunction based on both my assessment of movement dysfunction, in addition to ascertaining what prior practitioners had used in their treatment approach. Fortunately, my approach was somewhat different to those she had experienced previously. Hence, although chronic in nature, I felt that several issues relating to motor learning could be addressed. I was also lead to believe that all medical assessment had been undertaken to make a differential diagnosis. However, several factors also suggested some reasons for pessimism. In particular, the incapacitating nature of the disorder and especially it's severity whereby the clients career had been 'put on hold' for the past 3 years. Additionally, many of the symptoms referred to low threshold loading exercises such as hydrotherapy creating a gradual 'wind up' affect lasting in days of thoracic muscle spasms and severely reduced GIT motility. Initially. I hadn't quite appreciated the significance of the other 'general health' issues, such as mild asthma, I/T tachycardia, and what I noted as unusual 'orange' discoloration of the digits as well as some skin irritation. What was most evident with this and 2 similar conditions that I had seen, was that they were people who were all very mobile (floppy) yet they complained of severe muscle and joint stiffness. If it hadn't been for 3 clients all presenting at a similar time, who were all responding musculoskeletally and biomechanically to my treatments, but who were nevertheless still suffering severe muscle stiffness and visceral problems, I may not have noticed a clinical pattern emerging, nor would I have gone to the extent of reexamining a potential medical diagnosis which would require the care of an immunologist or highly trained rheumatologist.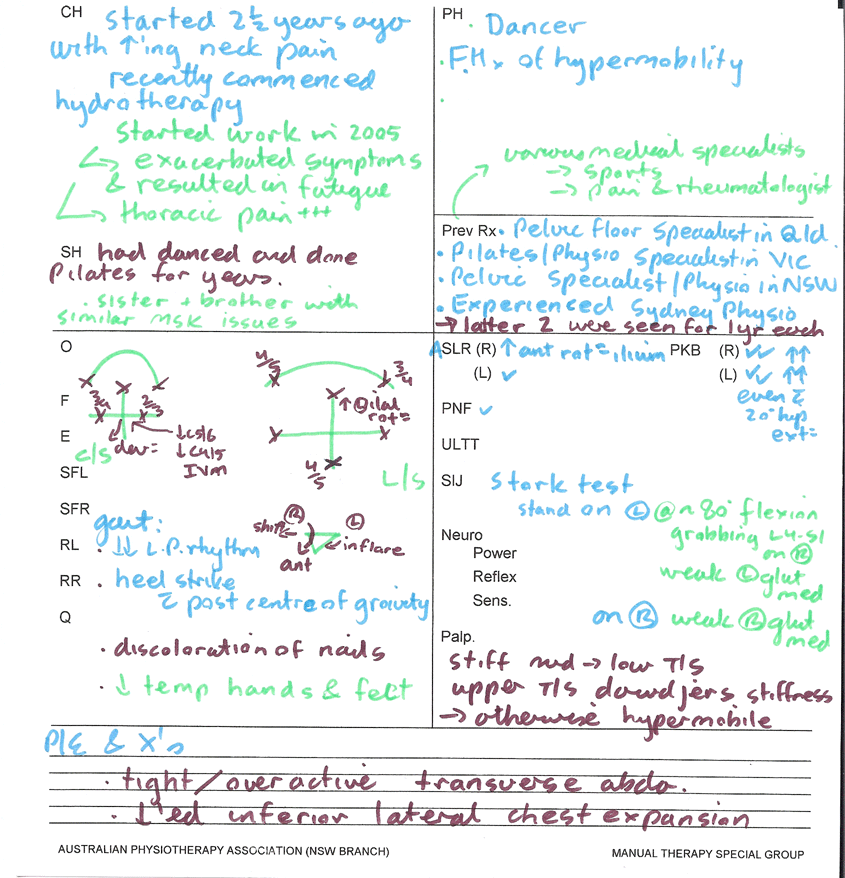 After 12 treatments over an 8 week period, I felt that I had no more to offer. However, then I decided to look up some of the more obscure conditions which I had come across in the past.
CREST and Systemic sclerosis
"Systemic sclerosis is a chronic disease of unknown cause characterized by diffuse fibrosis, degenerative changes, and vascular abnormalities in the skin, joints, and internal organs (especially the esophagus, lower GI tract, lung, heart, and kidney). Common symptoms include Raynaud's phenomenon, polyarthralgia, dysphagia, heartburn, and swelling and eventually skin tightening and contractures of the fingers. Lung, heart, and kidney involvement accounts for most deaths. Diagnosis is clinical, but laboratory tests help. Specific treatment is difficult, and emphasis is often on treatment of complications"
"SSc varies in severity and progression, ranging from generalized skin thickening with rapidly progressive and often fatal visceral involvement (SSc with diffuse scleroderma) to isolated skin involvement (often just the fingers and face) and slow progression (often several decades) before serious visceral disease. The latter form is termed limited cutaneous scleroderma or CREST syndrome (Calcinosis cutis, Raynaud's phenomenon, Esophageal dysmotility, Sclerodactyly, Telangiectasias). In addition, SSc can overlap with other connective tissue disorders—e.g., sclerodermatomyositis (tight skin and muscle weakness indistinguishable from polymyositis) and mixed connective tissue disease."
"SSc should be considered in patients with Raynaud's phenomenon, typical musculoskeletal or skin manifestations, or unexplained dysphagia, malabsorption, pulmonary fibrosis, pulmonary hypertension, cardiomyopathies, or conduction disturbances. Diagnosis can be obvious in patients with combinations of classic manifestations, such as Raynaud's phenomenon, dysphagia, and tight skin. However, in some patients, the diagnosis cannot be made clinically, and confirmatory laboratory tests can increase the probability of disease but do not rule it out."
"Serum antinuclear antibodies (ANA) and SCL-70 antibody (topoisomerase I) should be obtained. ANA are present in = 90%, often with an antinucleolar pattern. Antibody to centromeric protein (anticentromere antibody) occurs in the serum of a high proportion of patients with CREST syndrome and is detectable on the ANA. SCL-70 antigen is a DNA-binding protein sensitive to nuclease. Patients with diffuse scleroderma are more likely than those with CREST to have anti-SCL-70 antibodies. Rheumatoid factor also is positive in 33% of patients."
"If lung involvement is suspected, pulmonary function testing, chest CT, and echocardiography can begin to define its severity. Acute alveolitis is often detected by high-resolution chest CT."

These details were taken from MERCK's website and should be referred to for greater detailed description of Systemic Sclerosis and CREST syndrome
In terms of physiotherapy it would appear to be important for research to determine the effect of exercise on people with SCL conditions which are affecting the parallel and series elastic components of the musculature
Differential Diagnosis involving side effects from medication
Drug Side Effects on the Musculoskeletal System
muscle stiffness from drug side-effects
- acne treatment with Accutane :
A medical officer sent me the following details
"Roaccutane can cause myalgia and arthralgia, and they found this on DermNetNZ:
Muscle aches (myalgia) especially after exercise. Low backache is not uncommon. Joint aches (arthralgia) especially after exercise can sometimes be debilitating. These symptoms respond to nonsteroidal anti-inflammatory drugs such as ibuprofen.
In MIMs (Australian Drug Directory):
Musculoskeletal and connective tissue disorders. Myalgia, arthralgia and increased serum creatine phosphokinase may occur and may be associated with reduced tolerance to vigorous exercise (see Adverse
Reactions).
In clinical trials of disorders of keratinisation with a mean dose of 2.24 mg/kg/day, a high prevalence of skeletal hyperostosis was noted. Bone changes including premature epiphyseal closure and calcification of tendons and ligaments have occurred after administration of high doses for long periods for treating disorders of keratinisation. The dose levels, duration of treatment and total cumulative dose in these patients generally far exceeded those recommended for the treatment of acne.
Minimal skeletal hyperostosis has also been observed by X-rays in prospective studies of nodular acne patients treated with a single course of therapy at
recommended doses.
Due to the possible occurrence of these bone changes, a careful evaluation of the risk/benefit ratio should be carried out in every patient and Roaccutane administration should be restricted to severe cases."
- anti psychotic drugs for bi-polar disorder : http://bipolar.about.com/cs/sfx/a/sfx_thorazine.htm
- cholesterol treatment with statins : http://www.medicinenet.com/script/main/art.asp?articlekey=16431
loss of bone density from drug side-effects
- anti depressant drugs and loss of bone density :
This list is not exhaustive. Importantly it highlights the therapists need to be aware of the clients medication use and their possible side-effects.
The immune system respond in specific ways to exercise prescription. - link to Rome Presentation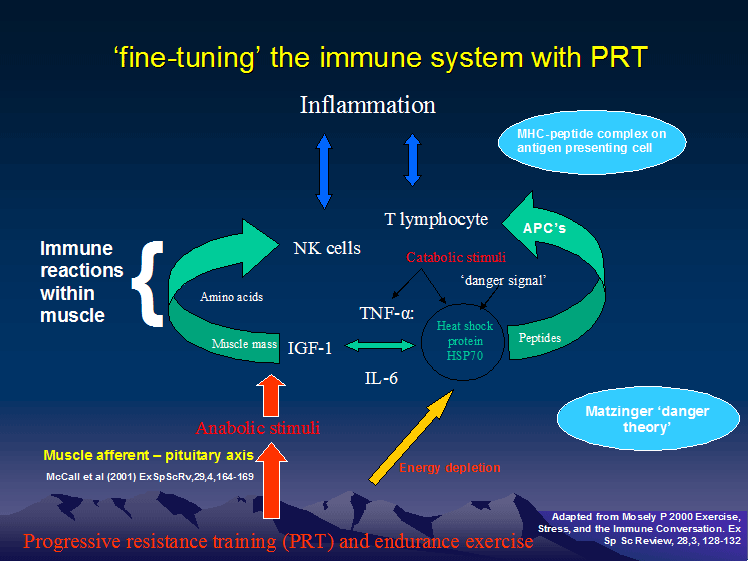 The specificity of goal oriented exercise prescription, can normally be used for positive immune adaptive responses. - link to nutritional supplementation
Unfortunately, at this stage it is not possible to ascertain the exact effect of exercise prescription on a condition such as CREST. However, in my experience of 6 clients to date (May 07), they all desperately wished to exercise. Therefore, precise exercise prescription designed by a physiotherapist would be preferable to that of unfocused advice. Importantly, the therapist must work cooperatively with the client in a holistic manner. Additionally, liaising with other health care professionals such as immunologists, rheumatologists, psychologists, naturopaths, etc. will also be required.
See : The Neuroimmune Response and Cognitive Behavioural Therapy
Figure 1: A model of everything : the neuromatrix is used as a model (cognitive process oriented structure) to describe the various input which the therapist can offer to 'enable' the client to engage in their path to recovery. Hereby, an evidence based approach using 'the values and beliefs' of the client is integrated with the scientific evidence base from physiotherapy, the pain sciences and psychology. Importantly, the therapist gains confidence through their success at predictive reasoning, whilst the client gains emotional confidence in their ability to undertake goal-oriented activities without the fear of exacerbation or under-performance.
Clinical reasoning was used to engage the client in the clinical reasoning process. In this case it became evident from treatment to treatment what the main concerns were as well as the reaction to exercise & treatment. Thus, it could be ascertained whether a correlation existed between the impairment demonstrated and the disability implied. Treatment and examination strategies were molded and changed over the weeks, until a point was reached where I had considered all my options exhausted. However, I was still convinced that this wasn't a case of Munchhausen's disease and that a true organic cause of their signs and symptoms needed to be found.
Sequence of learning through applied clinical reasoning
Human's are prone to taking short-cuts known as "heuristics". Although they generally serve us well, they often cause clinicians to make predictable errors. Generally, biases favor hawkish advice. These include
the optimism bias. People are prone to exaggerating their strengths. People generally believe themselves to be smarter, more attractive and more talented than average. They commonly overestimate their future success. This can lead to "illusion of control" whereby they consistently exaggerate the amount of control they have over outcomes, even when those outcomes are determined by luck or other variables.
the fundamental attribution error. Even when people are aware of the possible constraints on another persons behavior and know a lot about the context in which the client is acting, they often don't take it into account when assessing the client's motives.
risk aversion bias. An assumption is frequently made that people are "risk averse" but it turns out that we are predominantly "loss averse". The clinician may be prepared to run a risk in the slim hope of avoiding having to recognize a loss.
Due to the ease of being drawn into 'pattern recognition' and hence potential biasing, it is important for the clinician to maintain a structured cognitive retrieval process whereby recognition of desired and undesired outcomes leads to conformation or negation of the clinical reasoning hypothesis. Hopefully, when negation does occur, it occurs early in the reasoning process; otherwise the treatment management plan can spiral 'out of control' leading to the therapist taking greater and greater risks in the hope for a miracle. Hence, the clinician will need to be able to think back to first principles of anatomy, physiology, neurophysiology, pathology and biomechanics to be able to undertake the process of reasoning required to achieve the desired outcome. This formulation of outcome should in turn be a consequence of the dialogue within the therapist's brain (cognition & meta-cognition) as well as the dialogue between the client and the therapist.
Constructivism describes the process of learning and acquiring knowledge through experiential reasoning. The assumption underlying 'constructivism' is that we are 'life long learners' (3 l's) and that each and every clinical encounter allows a unique opportunity to learn, relearn and refine our techniques as well as reorganize and restructure our knowledge base. Furthermore, constructivist theory suggests that learning occurs which is based on each individuals unique prior experiences. Truth is considered relative to the individuals construct and hence diverges from logical positivism of science where 'truth' can exist alone without reference to the observers perceptions. This is similar to scientific philosophy of 'relative truths' or the 'relativity of knowledge' espoused by Feyerabend (1975), Kuhn (1970), Popper (1963). All of us would agree that science isn't just a collection of laws, or a catalog of unrelated facts. Rather, it is a creation of the human mind relating to making sense of the world. Hence, in musculoskeletal physiotherapy we must endeavor to match the science with our clinical reasoning which should make sense to the individual or organizations with whom we are interacting.
Candy (1991, p 263) states that "the constructivist perspective differs significantly from the view of knowledge as deriving from a process of copying or replicating." Hence, "we know reality only by acting on it.....The active interaction between the individual and the environment is mediated by the cognitive structures of the individual......and what we learn from the environment is dependent upon our own structuring of those experiences." (Nystedt and Magnusson 1982, p34)
To the constructivist, knowledge is not a precise map of external reality but a schemata or cognitive structure which can be compared or tested to other peoples construction of the same situation through the use of workable hypothesis or templates (Candy 1991, p 265). Domain specific prior knowledge plays a significant role in the process of construction, problem solving and learning. Systematic procedures for problem solving can be learnt which if content and context specific can lead to advanced clinical reasoning where errors in heuristic procedures can be detected immediately through the continuous testing of the working hypothesis and it's evaluation of the relevance of clinical data to the specific problem at hand. Hereby, not only can reliance on 'heuristics' be monitored but new schemata can be construed from the clinical environment when a clinical presentation occurs with which the clinician is unfamiliar.
Heuristics versus Constructivism
Figure 2: A useful instructional model used to describe a 'top-down' clinical approach with a scientific clinical evidence based approach of biomechanics and neurophysiology.
Figure 3: Increasing the validity and reliability of the clinical reasoning by correlating all aspects of the subjective and physical examination into a meaningful clinical picture (pattern recognition) - adapted from Maitland (1986, 1991).
When the features don't fit a known clinical pattern, then reversal to the first principles of clinical reasoning is required to exhaust all avenues of physio therapeutic possibilities. When all these possibilities continue to prove ineffective then referral to a specialist is required. In the above case, referral to an immunologist was recommended after 12 treatments.
see Instructional Design section for more information regarding clinical reasoning
First Uploaded by Martin Krause : 25 April 2007 Updated 16 September 2007