Retroversion of the acetabulum
Congenital anomalies of the hip are quite common. They occur more frequently in women than in men. Apart from hip pain, they can result in back - pelvic dysfunction, medial knee pain, foot pronation and hallux valgus (big toe crossing under second toe).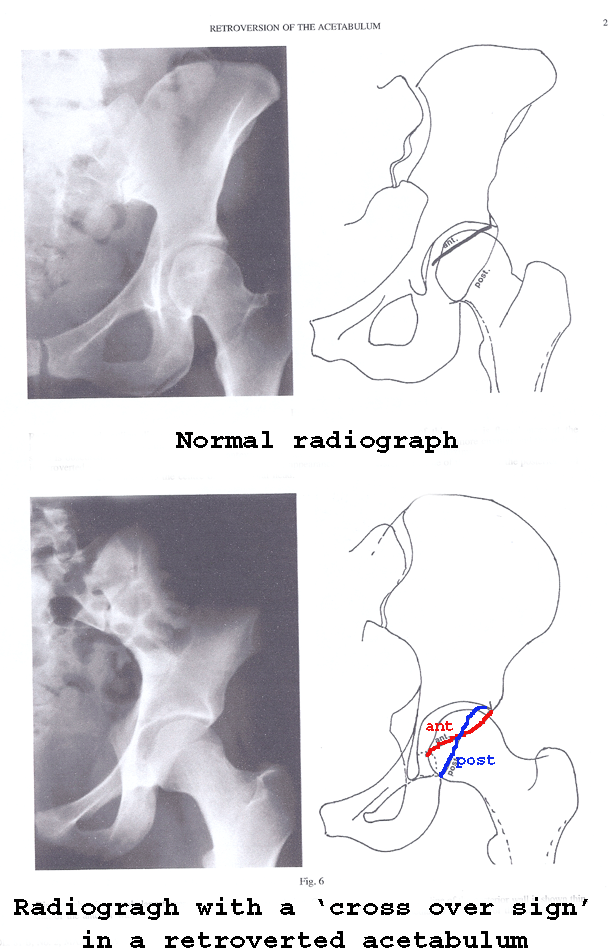 Reynolds, Lucas, Klaue (1999). Retroversion of the acetabulum - a cause of hip pain. JBJS, 81B, 2, 281-8
Retroversion of the acetabulum can lead to increased ROM of internal rotation with a conommittant loss of external rotation which in turn affects pelvic rotation during activitis such as ambulation.
Cam and Pincer Lesions can occur in association with labral lesions. Excessive tension in the external hip rotators can cause anterior acetabular impingement. Iliopsoas tendonosis may be associated with anterior labral lesions. Excessive anterior rotation of the innominate can cause anterior hip impingement.
Pfirrmann et al (Radiology, 240, 3, 2006 pp778-785) used MRI measurements of alpha angles and the depth of the acetabulum to determine the risk and incidence of CAM and Pincer lesions in the hip. They concluded that a deep acetabulum and posteroinferior acetabular cartilage lesions were a characteristic finding of pincer impingement.
Lateral hip pain should always be assessed in terms of internal corset versus external corset stability as outlined by Vleemings muscular 'slings' or neuromuscular vectors.
If detected early, the treatment of hip-pelvic-back conditions in the presence of congenital anomalies is relatively simple, so long as the basic concepts of excessive internal rotation of the hip and reduced external rotation are appreciated. However, in late stage cam-pincer injuries soft tissue massage, dry needling and muscle energy techniques can be employed, on a monthly basis over several years, to stave off the frequently inevitable need for hip replacement surgery.
also see clinical reasoning in th differential diagnosis of hip pain
23 May 2013