Introduction
During pregnancy the female body undergoes several changes. Some of these effects include the release of a hormone called 'relaxin' which as the name implies causes relaxation of soft tissue such as ligaments in preparation for childbirth. Such changes are in most circumstances beneficial. However, in some instances women can develop low back and pelvic girdle pain.
Pelvic anatomy
The pelvic girdle is supported by ligaments and muscles. Additionally, the low back also has an intervertebral discs which act as semi-flexible spacing structures for the back. These structures undergo increased loading as a result of increasing weight of the expectant mother, as well as altered posture as the foetus grows. The pelvic girdle tends to tilt forward placing extra strain on the low back curvature. Moreover, the pelvic ligaments holding the sacrum to the ilium and binding the pubic bones at the front can be strained resulting in the ilium shifting on the sacrum which can cause significant pain. Women can experience difficulty in bearing weight through one leg. Such pain can be associated with altered muscle tension as well as weakness creating inco-ordination around the hip-pelvis-back regions (Wu et al., Eur Spine J. 2008 September; 17(9): 1160–1169).
Physiotherapy
Physiotherapy addresses such problems by undertaking a comprehensive assessment to ascertain the mechanisms of pain ane movement impairment. The articular structures of the back, pelvis and hip are assessed for their ability to rotate and glide. The muscles are assessed to evaluate whether they are excessively tight due to spasms or excessively weak due to reflexogenic pain mechanisms. Muscles of most importance are the pelvic floor, the deep low abdominal muscles, the deep hip flexors and the hip rotators. Additionally, the back extensors and side benders are also assessed for their postural reflex integrity. The knees and feet are also assessed for their alignment and occasionally orthotics are prescribed.
Hip Problems
Due to the altered lumbo-pelvic position from pregnancy, the hip may become compromised. Some hip muscles such as the obturator internus has it's membrane connecting to the pelvic floor muscles. Other muscles of the hip, such as the piriformis, actually attach to the front of the sacrum and and can create a torsion in it. Frequently, a torsion in the sacrum can also occur as a result of the inside thigh muscle (adductor) pulling the hip forward in it's socket which results in the ilium (wing of the pelvis) rotating forward causing a rotation of the sacrum (triangular bone) to the opposite side which results in the pelvis rotating excessively to the same side.
Since the thigh bone (femur) is a hip and knee bone, some of our knee exercises are also hip exercises, activating the adductors, gluteals, quadriceps and pelvic floor.
Treatment
Treatment usually involves a Canadian approach, using muscle energy techniques, soft tissue massage, joint mobilisation as well as exercises for low back-pelvic synergy and postural stability. Frequently, the thorax is quite stiff, as a result of stretched abdominal muscles and tight erector spinae back muscles, and may need soft tissue work and joint mobilisation as well as breathing exercises. In pregnant women suffering pelvic girdle pain, investigations have shown increased horizontal rotation during walking, which seems counter-intuitive to move an area excessively when painful (Wu et al., Eur Spine J. 2008 September; 17(9): 1160–1169). Since the pelvis and spine can be consider as sitting in a sling of muscles, once sacro-iliac (pelvic joint) positioning is attained, it should be maintained through a home exercise programme employing 'muscle energy straps' and joint unloading strategies. Sometimes, a pelvic belt is used to maintain stability.
Breathing exercises

Exercise during pregnancy
Investigations into prenatal maternal physical activity and stem cells in umbillical cord blood have demonstrated changes which may be beneficial in the amelioration of preecclampsia, as well as findings of reduced breast stem cells, which may suggest susceptibility to breast cancer can be influenced prenatally. Moreover, endothelial progenitor cells in umbillical cord suggest that maternal exercise can improve fetal cardiovascular fitness (Onoyama S et al 2015, Med Sc Sp Ex, 48,1, 82-89)
Read more : strenuous physical activity during pregnancy
Diabetes and Pregnancy
Recent investigations have shown that exercise during pregnancy can reduce the risk of offspring developing type 2 diabetes by improving insulin sensitivity and glucose homeostasis (Carter et al 2013, Med Sc Sp Ex, 45, 5, 832-840). Lateral breathing, along with thoracic mobility exercises and venous stockings may aid in leg circulation and sympathetic nervous system modulation. As the foetus becomes larger, lying on the back should be avoided as it may reduce blood flow in the aorta and vena cava.
- only works if your not too pregnant yet!! Modifications may be made using a towel or using the sidelying position.
Sidelying also reduces the risk of compromising the aorta and vena cava
Gluteal muscles
Although Kegel exercises have been used extensively, some clinicians suggest that these may increase counternutation in the pelvis resulting in instability around the pelvic joints. Alternatively, the use of exercises encouraging gluteal muscle activation has been encouraged to maintain a more upright and hence stable pelvis. Other hip muscles of significance include the obturator internus which is an external rotator of the hip and has myofascia which is continuous with the pelvic floor musculature. It should be noted that excessive external rotator activity by the piriformis muscle may result in SIJ (pelvic joint) irritation from potential 'out flare' of the ilium and/or contralateral rotation of the sacrum resulting in ipsilateral opening of the SIJ and contralateral compression of the opposite SIJ.
Hip and core stability exercises
Exercises in 4 point kneeling can also be employed to improve the position of the hip in the pelvic socket, as well as activate the pelvic - thoracic slings. Care needs to be taken of excessive loading of the hands, as carpal tunnel is not uncommon during pregnancy. All exercises can be modified into the standing and side lying positions. Common exercises include the clam, hip exercises and the wall plank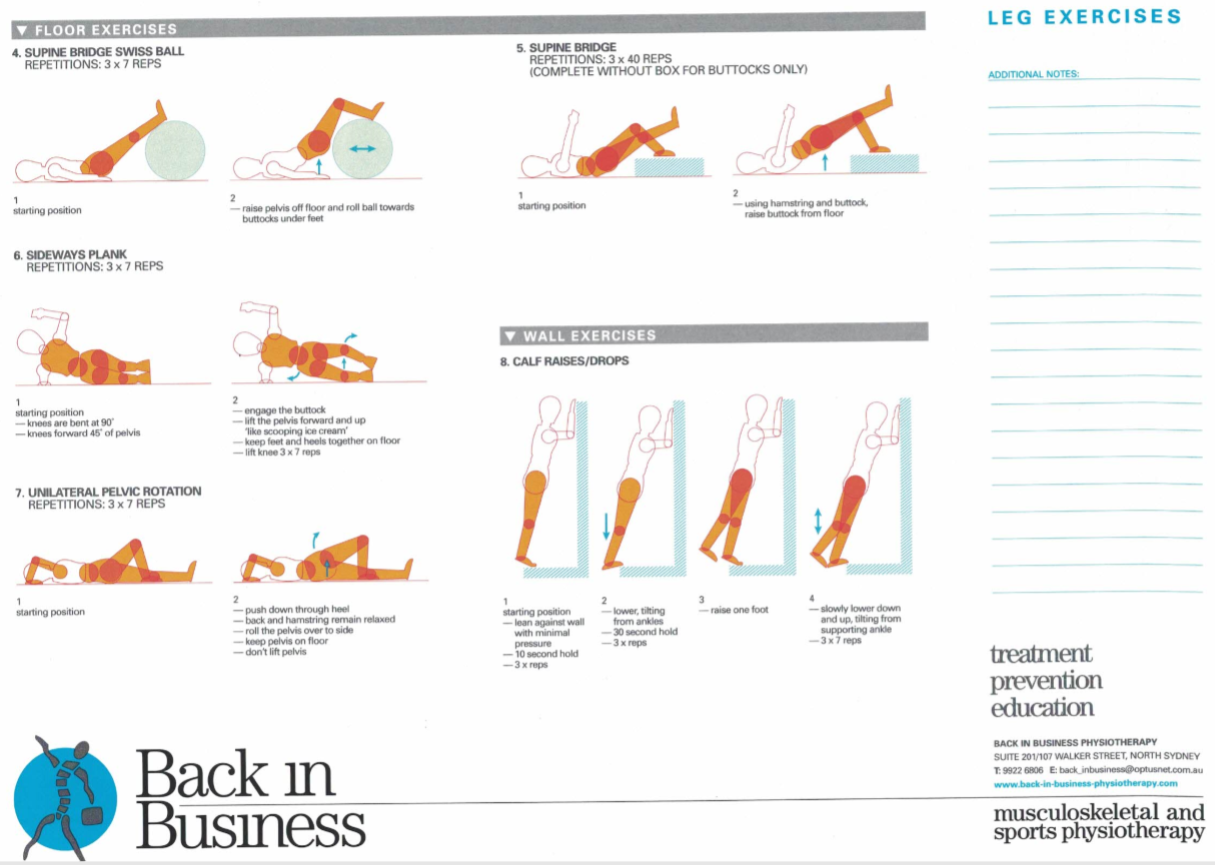 Conclusion
Exercises involving hip-back strength and co-ordination are frequently employed to maintain the optimal functioning of the legs and back. Hands-on techniques around the hip, pelvis, low back and thorax are employed to optimise muscle tension and joint alignment, which in turn reduce excessive uncontrolled movement and the muscle inhibitory effects of pain.
Please consult us or your local physiotherapist as the treatment regime should be tailor made for your precise condition.
Last update : 28 October 2022