Bachelor Applied Science (Physiotherapy)
Graduate Certificate Health Science Education
Master of Applied Science (Manipulative Physiotherapy)
Graduate Diploma Health Science (Exercise & Sport)
Certificate IV Workplace Assessment and Training
Martin has been a physiotherapist since 1986, Too old you may ask? However, still young at heart, full of energy plus a heck of a lot of clinical experience.
Martin started his career with Illawarra Area Health. After a year, he left for South America to learn Spanish and Portuguese. Returning 3 years later, to mountain bike pack cycle over almost all Andes passes between Chile, Bolivia and Argentina, Martin set up a future of International Teaching, giving 'cutting edge' workshops in Chile and Brazil over the subsequent decade. 'Teach the teachers' was where he thought change could be made. During this period Martin lived and worked in Switzerland, initially in Bad Ragaz and later in Basel. In both locations, international and local clients, including involvement with professional and elite athletes, culminating in working with the Swiss Team at the Sydney Olympics. During this period, Martin engagements included work with the Swiss National Orienteering Team, athletes from the Swiss Downhill Ski Team, National Cycling Team, professional soccer players from the Bundesliga and Serie A (including, at the time, the most expensive transfer ever), Tour de France cyclists, professional tennis players as well as various other athletes. Teaching commitments included introducing the McConnell concept and Australian Manual Physiotherapy to Europe. A student at the time, Alfio Albisini, became an international teacher disseminating these concepts all over the world, which continues to this day.
Returning to Australia, via South America, in the mid 1990's, to complete his Masters in Manipulative Physiotherapy, opportunities occurred to present physiotherapy workshops in Japan, USA, Holland, Portugal and Germany. Research included biomechanical concepts in Knee ACL and Achilles Tendon rehabilitation post surgery, neurophysiology of pain and biomechanics of mechanical traction, muscle mass and immune compromise from sarcopenia, as well as writing a book on Therapeutic Whole Body Vibration. During this period, Martin had moved from Switzerland to Wentworth Falls in the Blue Mountains and eventually North Sydney. He also completed further post graduate education in Health Science Teaching, as well as Exercise and Sports Science.
Thanks to International Teaching and travel with Sports Teams, Martin at one stage was fluent in 4 languages and got by in another 2. However, over time German has remained fluent, as has Spanish, however Portuguese has wained. He still can get by in Italian and French for basic conversation and more than enough for treatment managment, as they were the Lingua Franca whilst working in Switzerland.
Martin left Australia to participate in elite amateur road cycling and orienteering. Although adventure sports and long distance cycling as well as running were his forte, later years has brought him back to 11 aside O35 soccer for Mosman FC, downhill gravity trail mountain biking, canyoning in the Blue Mountains, traditional rock climbing, bouldering and sea kayaking. He has also become addicted to Hatha Flow Yoga, which allows him to continue to be competitive, over 90 minutes, against much younger soccer players (in some instances 2 decades younger).
Martin continues to stay abreast of the latest developments in Physiotherapy, as well as continue to take the lead, reviewing and revisiting previous research in Neurophysiology, Biomechanics, Whole Body Vibration Therapy, Mechanical Traction, as well as a treatise on the Immune System and Musculoskeletal health, Deterministic Chaos and Oscillatory Systems found elsewhere on this website. Hence, to answer the initial question - no he's not too old!! ..and would love to help you with your musculoskeletal condition no matter your background or age.
- Read more "Reflections on a career"
- English, German, Spanish
View Client Reviews in Whitecoat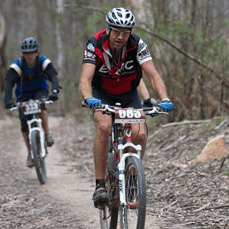 To check availablity and make an online appointment with Martin using First Available please click here